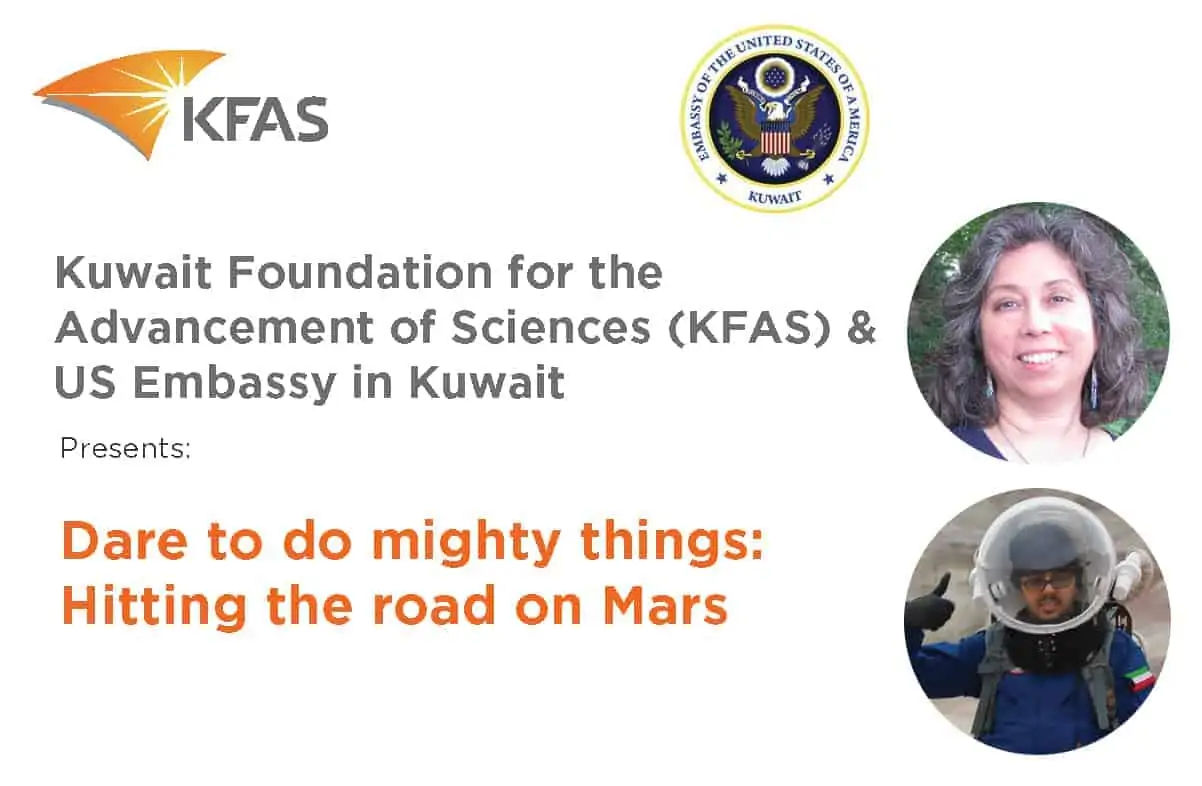 أخبار
Dare to do mighty things: Hitting the road on Mars
KFAS Auditorium 31 March 2019
A lecture about NASA's "Journey to Mars" from the early rovers to the current rover on Mars, the Curiosity Rover. Landing Curiosity on Mars can teach lessons both about what space exploration in Mars can symbolize and what humanity is capable of when working as a team.
Date: 31 March 2019
Time: 10:30am – 12:00pm
Venue: KFAS Auditorium
Note: this event is open to the public
Since the beginning of time, people have been entranced by the night sky and by our nearest planetary neighbor, Mars. Come hear from NASA engineer Nagin Cox, who works on the Mars Rovers program, about NASA's "Journey to Mars" from the early rovers to our current rover on Mars, the Curiosity rover. Landing Curiosity on Mars in August 2012 was a feat of engineering and innovation that can teach us lessons both about space exploration and other life challenges. As Nagin will explain, NASA's exploration of Mars symbolizes all that humankind can do when we work together as a team." Zainab "Nagin" Cox is a senior engineer at NASA's Jet Propulsion Laboratory (JPL), where she has served as a systems engineer and manager on multiple interplanetary robotic missions including NASA/JPL's Galileo mission to Jupiter, the Mars Exploration Rover Missions, and the Kepler telescope mission to search for earth-like planets around other stars. Currently, Cox is a Mission Lead on the operations team for Mars Science Laboratory (MSL)- NASA's Mars Curiosity Rover that landed in August of 2012 and been exploring Mars ever since.
Analog astronaut experience at the Mars desert research station Ghanim will talk about his experience as an analog astronaut simulating a mission to Mars as part of an international crew. As Ghanim was representing Kuwait, he was the crew astronomer. Conducting research, living and working in a confined environment are some of the crew duties. Ghanim Alotaibi has a MSc in photovoltaics from Freiburg University – a graduate certificate in astronomy from Swinburn University – Australia, and a graduate from the International Space University. Ghanim has worked in Kuwait Oil Company and the privet sector. Currently, Ghanim is the regional coordinator of the Middle East region for the Space Generation Advisory Council (SGAC), the event manager of the Moon Village workshop for emerging space countries, and most recently, Ghanim is an analog astronaut
performed his first rotation at the Mars Desert Research Station (MDRS).